We're proudly donating to local charity from all online courses 'til June 30,2020.
Home Alone Online Course
Non-Certification
---
Home Alone Online Course will help you and your child know the basics to staying home alone safely. This course will give you great ideas how to prepare you and your child to stay home alone. It will also help your child on what to do if something like:
Someone knocks at the door
They hurt themselves
Fire safety
Making snacks alone
Computer safety
There are resources included to help parents keep their children safe in the ever-changing cyber world.
After your child completes this course they can download a "Certificate of Completion"
Table of Contents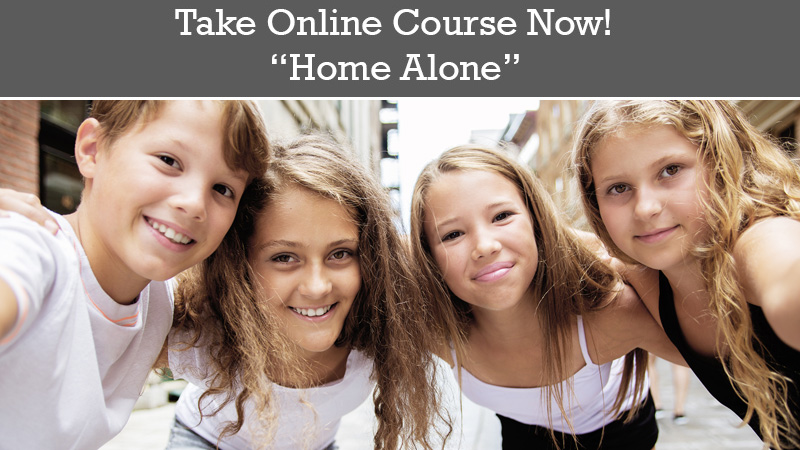 Chapter 1
✓ Am I Ready to Stay Home Alone?
✓ Home Alone Questions
✓ Safety Talk
✓ Stranger Safety
✓ Computer Safety
✓ Phone Safety
Chapter 2
✓ Fire Safety
✓ Kitchen Safety
✓ Snacks
✓ Fire Safety Cipher
Chapter 3
✓ First aid basics
✓ Bleeding
✓ Choking
✓ Burns
✓ Word search
Chapter 4
✓ Home Alone Questions – Take Two
✓ My Rules for Real World Safety
✓ Wall certificate
Chapter 5
✓ Parent Corner
✓ Parent Resources
Copyright©2006, 2012, 2016 by Kathryn Davies and Life's Emergency Training
All rights reserved. This book or any portion thereof may not be reproduced or used
in any manner whatsoever without the express written permission of the publisher
except for the use of brief quotations in a book review or scholarly journal.
First Printing: 2006
Life's Emergency Training
723 Brant St., Burlington, ON L7R 2H6
www.lifesemerg.com